The Best Brown Butter Chocolate Chip Cookies
This is an easy recipe for brown butter chocolate chip cookies. I have been it's the best cookies. These cookies are cookies made with melted butter that have browned and that produces this chewy, almost fudgy on the inside, but crisp on the outside. You'd think cookie making is straight forward, but oh how we underestimate the science involved in making cookies. Everything from the little bit of leavening agents to baking temperature makes a difference.

I ended up making this one more laborious for myself than I needed to, but I'm not complaining because my first memories of baking were baking cookies with my sisters. Therefore, cookies always have a special place in my heart. They are my go-to and I always have cookie dough in the freezer. I didn't mind the extra work of testing the effects of certain ingredients in the cookies. Everybody wants that beautiful bakery-like crinkly topped cookie. I've read from some sources that adding a little bit of cornstarch or cream of tartar is a bakery trick to achieve that effect. A little bit of baking powder will do the same.

I tried it all: baking powder, corn starch, cream of tartar; dark brown sugar vs light brown sugar; sea salt or no sea salt; hand mixing or using a stand mixer. There are so many variables. The melted butter itself is a variable. Most had subtle impacts, and some were very noticeable. Of course, will list my findings in my usual note form below.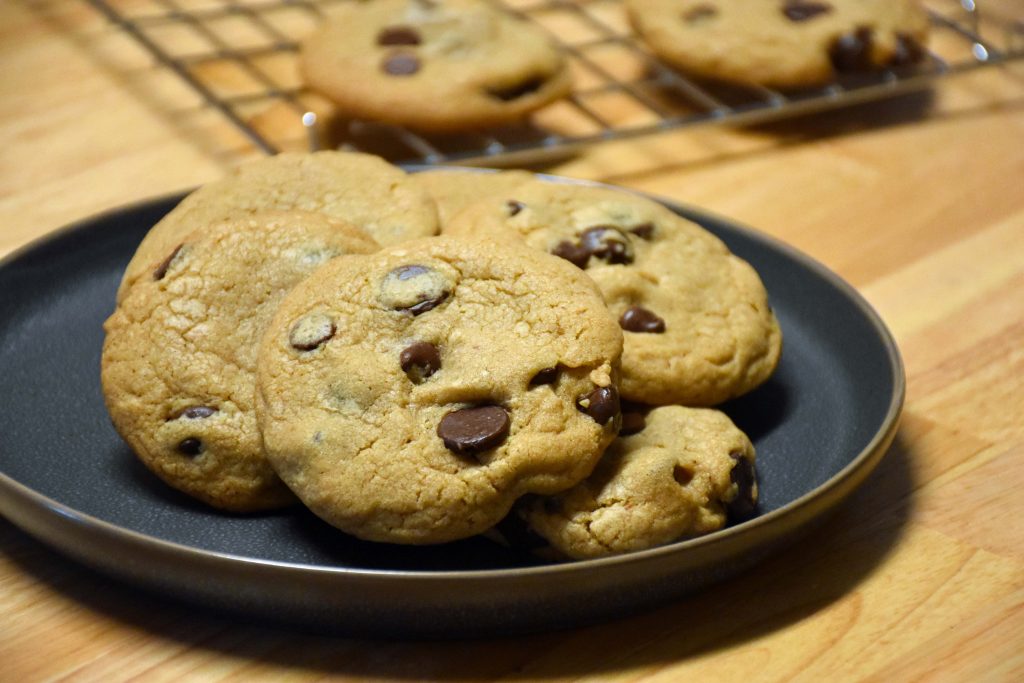 Notes:
• Melted Brown Butter – in general cookies made with melted butter will be chewier or fudgier than cookies made with softened butter. Expect fudgier cookies and I love the little brown bits from the pan. When you are browning the butter, it will get bubbly as the water content gets cooked off and once it turns browns, you'll smell it. It makes for a great smelling cookie dough. I'm not usually tempted by cookie dough, but I was tempted with this one.
• Salt – I'm settling for 1 teaspoon on this one. In my first batch I used 1 teaspoon of salt and added sea salt on top. I thought this was just a hair too salty. Although, most everyone gave it rave reviews, there were a few little rascals who aren't fond of the taste of sea salt. Reduce the salt by a little bit if you want to top the cookies with sea salt before baking.
• The crinkling effect – cornstarch and cream of tartar does add a little crinkle without changing the taste. In my opinion, they do change the texture. They yielded cookies which have a harder crust and taste drier overall. I ended up using the baking powder, which is essentially baking soda mixed with an acid like a cornstarch or cream of tartar, but I like the results more than using the whole amount of ½ teaspoon of cornstarch or the cream of tartar. No matter what, I wouldn't change the baking soda because these cookies have more brown sugar (which is an acid) than the typical chocolate chip cookies. Baking soda is needed to react to that acid. ***If you don't care for that crinkling effect just skip the baking powder. Like I mentioned, everything makes a difference and these additions do add crinkles and sometimes tastes. I was told these cookies were the best with the baking powder, but I'm just as happy with these cookies without the baking powder. On that note I'm updating the baking powder to optional.***
• Light brown vs dark brown sugar (and sugars in general) – the brown sugar will give your cookies a chewier and more caramel flavor. You can definitely taste the molasses in the dark brown sugar. You can use either for this recipe, but I like the light brown a little more. Save the dark brown sugar for your ginger molasses cookies. I also tried equal amount of brown and granulated sugar and that tastes more like the typical chocolate chip cookies that I'm used to, and it works just fine here. You can use equal parts white and brown sugar if that is the taste you prefer. At the end of the day, they are still chocolate chip cookies!
• Hand mixing or stand mixer – I tried both mixing by hand and using the stand mixer. The only difference I noticed was the hand mixed cookies don't spread out as nicely as the stand mixer cookies, probably because the ingredients aren't being incorporated as well as being mixed by the machine. But hand mixed cookies are homier, and we can't complain about that.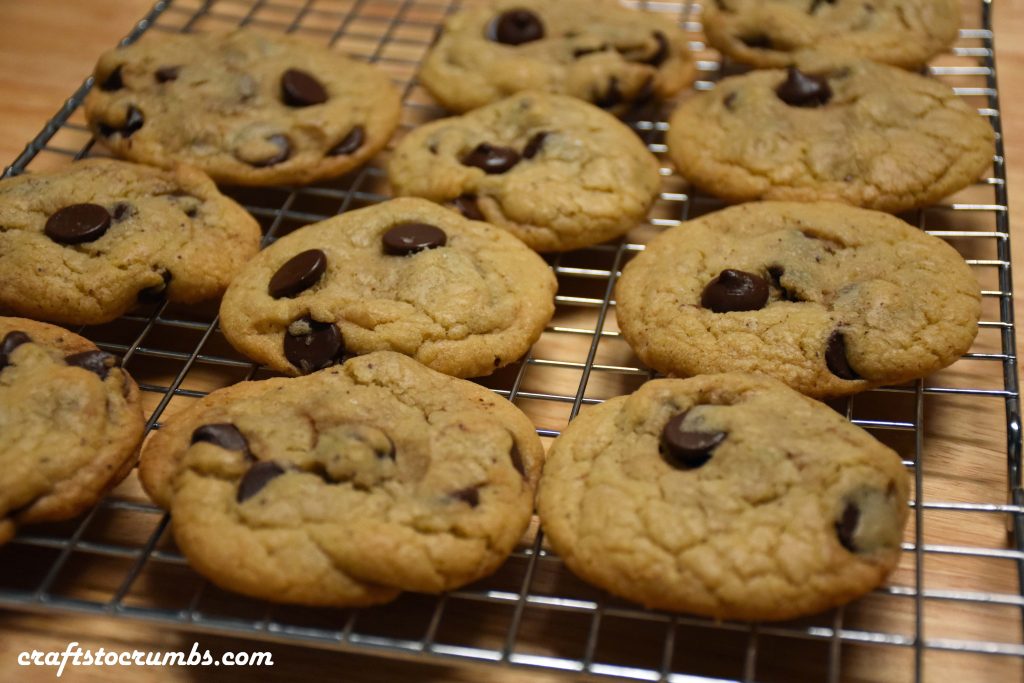 Brown Butter Chocolate Chip Cookies
Yields: 3 dozen
Time: 1 hour
2 ½ cup (300g) all-purpose flour
2 sticks (1 cup/227g) unsalted butter
1 cup (213g) light brown sugar, packed
½ cup (99g) granulated sugar
1 teaspoon baking soda
½ teaspoon baking powder *** (optional – see note above)***
1 teaspoon salt (reduce to between ½ tsp- ¾ tsp if you want to sprinkle sea salt on the outside)
2 large eggs
2 teaspoons vanilla extract
2 cups (340g) chocolate chips (dark or semisweet)
• In a frying pan, melt butter over medium low heat. Let it bubble and turn brown. Stir occasionally. Turn off the heat and pour brown butter into the bowl of stand mixer and let cool completely.
• Meanwhile, whisk together the flour, baking soda, baking powder and salt. Set aside.
• Preheat oven to 350F.
• Once the butter has cooled, add the sugars and beat using a paddle attachment for a minute or so. Then add in eggs, one at a time and vanilla extract. Beat until creamy.
• Slowly add in flour. Mix until just combined and then fold in the chocolate chips.
• Scoop one-inch balls. Roll in your hands and place on baking sheet (lined with parchment or unlined is fine). Flatten the tops of the dough balls. Sprinkle on sea salt if using sea salt.
• Bake for 9-11 minutes until edges are golden brown. Don't overbake.
• Let cool on baking sheet for about 5 minutes. Remove from baking sheet and let cool completely on wire rack.