This is one of my favorite things to do with an egg. Few ingredients, packed full of flavor. The tang from the mustard and dill relish makes this dish.
For me, it's not Easter without deviled eggs. When we visit family for Easter, I will settle for other people's deviled eggs, but my version is the way I really like it. I have to admit that I'd had to come home and make my deviled eggs even after having other people's eggs at various gatherings.
Notes:
• Measurements – when I make deviled eggs, I don't normally measure out ingredients like this. I usually do two big squeezes of the mayo, one small squeeze of the mustard and that's about it. Make sure you mash the yolks really well because they will help soak up the liquids.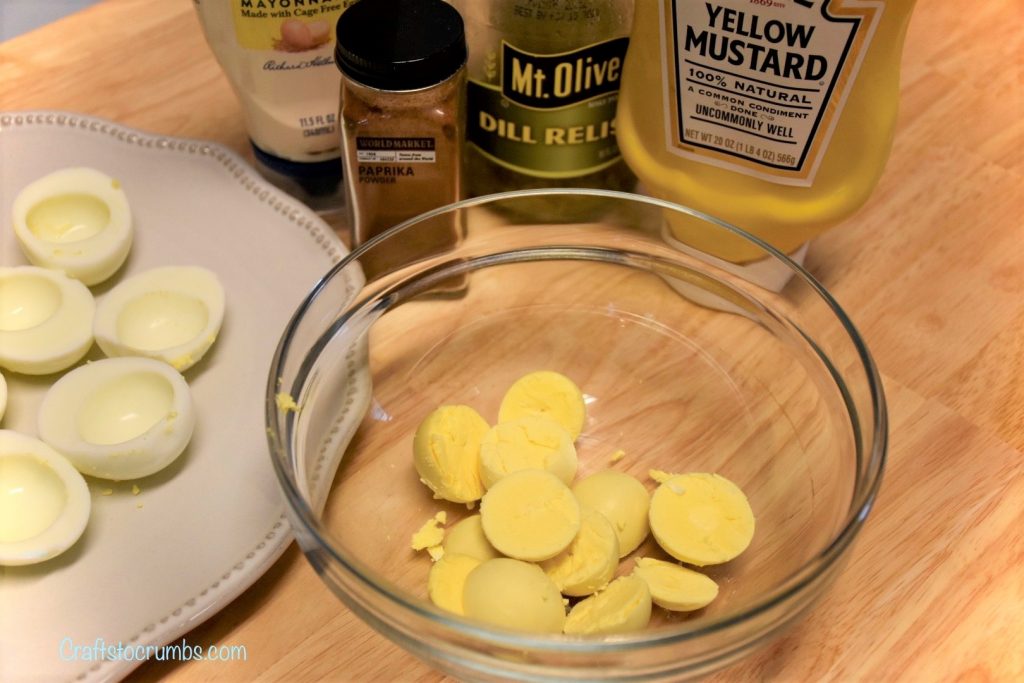 • Relish – you can use sweet relish or chop up your favorite pickle. I prefer the dill and that's what I typically have in the house.
• Green onions – occasionally, I like to finely dice the white part of a green onion and mix that into the yolk. Save the green part for the top.
• Deviled egg sandwich – This deviled egg recipe is also my deviled egg sandwich recipe. I usually mix in the green onion. Chop the egg whites and toss that in as well. Serve on white bread. Yum.
Deviled Eggs

Time: 30 minutes
Yeilds: 1 dozen
6 large eggs
2-3 Tablespoons mayonnaise
1 1/2 – 2 Tablespoons dill relish
1-1 1/2 teaspoon yellow mustard
Paprika
1 green onion – chopped (optional)
• Place eggs in a saucepan. Cover with water and bring to a boil over medium high heat. Once you get a rolling boil, cover saucepan with lid. Remove from heat and let it sit for 12-14 minutes. Then pour out hot water and rinse under cold water until eggs are cooled.
• Peel eggs and dry with paper towel.
• Cut hard-boiled eggs in halves. Set the egg whites to the side. Carefully separate the yolk and place in a small mixing bowl.
• In the bowl with yolks, add mayonnaise, dill relish and yellow mustard. Mix all the ingredients and smash the yolks until everything is smooth. It will still be a little lumpy because of the relish.
• Spoon the yolk mixture into a plastic bag. Snip the end of the bag and pipe into the egg whites. Or take spoon-full of yolk mixture and equally put them in the egg whites.
• Sprinkle paprika over the eggs. Top if green onions if desired.