This is my version of the mochi doughnut. There are two notable types of Japanese doughnuts. The main differences between the two doughnuts are ingredients. Mochi doughnuts are made with mochiko or sweet rice flour. That's what makes them mochi. The other is a pon de ring and is usually made with tapioca starch.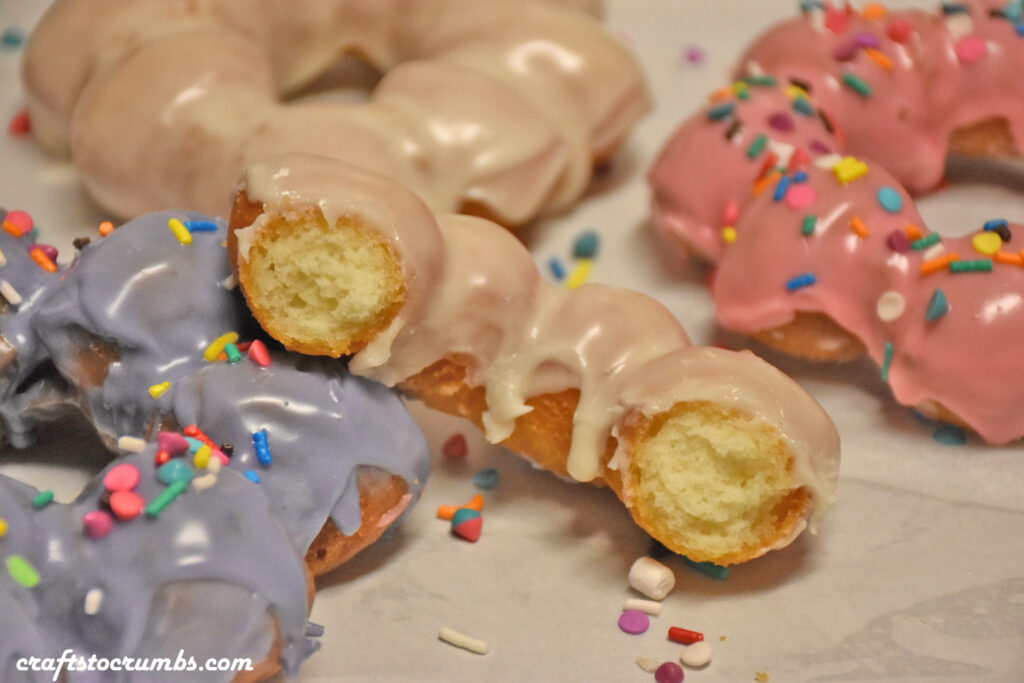 Typically, mochi doughnut and pon de ring doughnuts are denser and chewier than an American doughnut. While developing this recipe, I ended up trying seven different combinations of ingredients. With sweet rice flour, with tapioca starch, without all-purpose, with yeast, baking powder, and different liquid amounts. We stopped by a Dochi doughnut shop to clear our palettes. The family a.k.a. taste testers all agreed that we prefer my homemade version better than Dochi's, which I gather is a pon de ring based on the ingredients lists, which consisted of main tapioca starch, flour and no sweet rice flour.

I ended up using both sweet rice flour, tapioca starch and a little bit of all-purpose flour to help with the tightening of these flours. My mochi doughnut is more like a soft cake doughnut with chewy outsides. You can pop the leftover doughnuts from prior day in the microwave for 15-30 seconds and it still tastes good. This doughnut has been put on my go-to recipe for doughnuts.

Notes: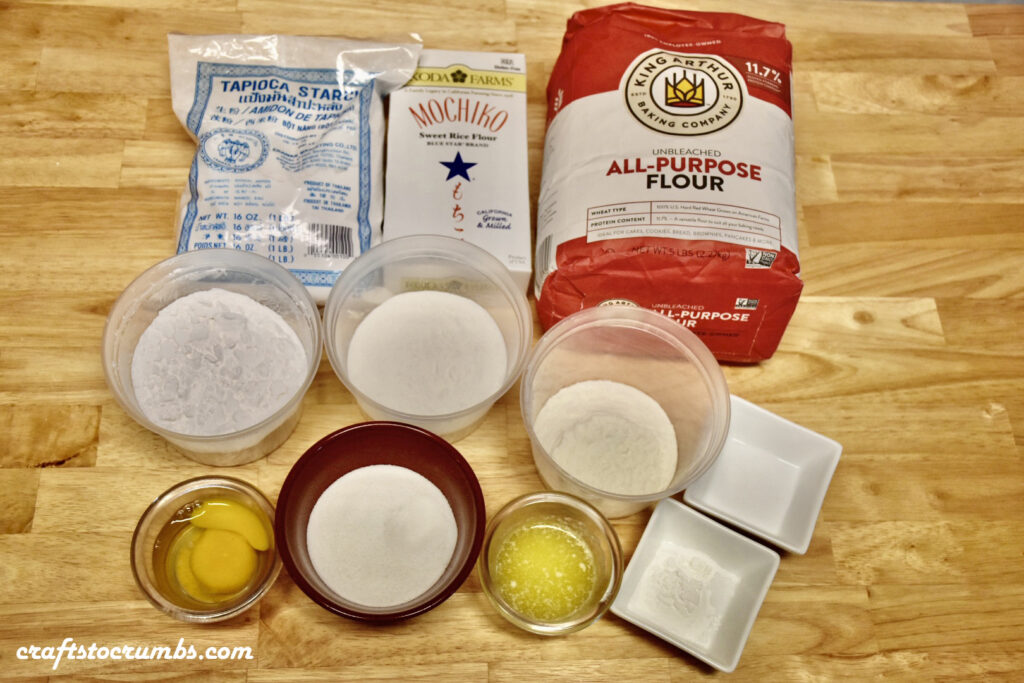 Yeast vs Baking Powder – The yeast version yields and chewier doughnut, whereas the baking powder produces a cake like doughnut. If you want a chewier doughnut, you can replace the baking powder with 1 teaspoon of instant dry yeast. You can still add it straight in with the dry ingredients. However, you'll have to also let the dough rise for about an hour after kneading.

Time – Save time by rolling out the dough and using a biscuit cutter or doughnut cutter and make rough doughnuts. There's no shame in that.

Sweet Rice Flour – There are mochi doughnut recipes out there with only the sweet rice flour and they tend to get tight and tough once they cool. You may have seen mochi doughnut recipes with silken or soft tofu. That gives the rice flour something to cling on to help give it a softer texture. I used a little bit of all-purpose flour to give this same soft texture. If you want gluten-free doughnuts, you can omit the all-purpose. The dough will be wetter and hard to work with, but at that point I would just scoop it and drop it straight into the fryer to make fritters or fried doughnut holes.
Mochi Doughnuts

Yields: 6-8 doughnuts

Dough
1 cup (145g) sweet rice flour
¾ cup (85g) tapioca starch
¼ cup (30g) all-purpose flour
2 teaspoons baking powder
1/3 cup (66g) sugar
¼ teaspoon salt
1 egg
½ cup (118 ml) milk
2 Tablespoons butter, melted
Oil for frying
Glaze
2 cups confectioner's sugar
2-3 tablespoons milk (plus more if preferred)
1 teaspoon vanilla extract
Food coloring (optional)
2 tablespoons cocoa powder (optional for chocolate)
2 tablespoons strawberry powder (from processed freeze-dried strawberries – optional)
• In a medium bowl, add sweet rice flour, tapioca starch, all-purpose flour, baking powder, salt and sugar. Mix.
• Add milk and eggs. Mix well. Then add the melted butter.
• Knead by hand until the dough comes together and is smooth. If it is too dry add a teaspoon of milk and knead well between each addition.
• Cover the bowl with a clean kitchen towel and let the dough rest for 10-15 minutes.
• Using a spoon or your hand, pinch off a piece of dough about the size of an inch. Roll to form a ball and place on a piece of parchment paper. Repeat by forming 6 to 8 balls and place them next to the other dough balls making sure that they are touching each other. They should stick to each other. If you find the dough is too dry, you can dip the dough ball in water before placing them next to each other.
• Repeat until all the dough has been used and all doughnuts have been formed. Cover with the tea towel to allow the doughnuts to rest while the oil heats up.
• Heat oil in a heavy bottom pot or fryer to about 335- 350F. Place the formed doughnut with parchment paper and all into the oil. Let it fry for 30-45 seconds before removing the parchment paper with a pair of tongs.
• Allow the doughnuts to fry for 2-3 minutes on each side or until they are golden brown.
• Remove the doughnut from the oil and place on paper towel lined plate.
• Make the glaze. In a medium bowl, add confectioner, milk and vanilla extract. Whisk until smooth. Add milk if you prefer a thinner glaze. You can add two tablespoons of either chocolate or strawberry powder if you want to make either chocolate or strawberry glaze.
• Add food coloring, if using. Whisk until completely incorporated.
• While the doughnut is still hot, dip into the glaze. Then place on a wire rack to let glaze set. Serve warm or at room temperature.
Enjoy!