Peanut Butter Chocolate Chip Cookies
This is my take on the classic peanut butter blossom cookies, minus the fuss of opening up all the individually wrapped chocolates. Peanut butter and chocolate is one of my favorite flavor combinations. These are the cookies I always have on hand during the holidays along with the oatmeal white chip cookies.
Peanut butter cookies bring back great memories for me. I remember baking peanut butter cookies with my sisters and making the little cross hatch marks with the forks. Matter-of-fact, I don't recall many other types of cookies in my childhood. Those memories are clouded by my fondness for peanut butter cookies. Baking cookies with my sisters is probably the beginnings of my baking love.
During these unprecedented times, what would be better than going back to those comfort foods that makes us feel warm inside. I hope you guys enjoy these one as much as I do.
Here are a few notes:
This recipe yields a lot! Six to seven dozen, give or take. I usually freeze the dough that I don't use. Then enjoy these freshly baked cookies whenever I want. Follow the steps through rolling the dough balls in sugar and place them onto a baking sheet or freezer safe tray. Flatten the cookies. Stick the sheet or tray into the freezer for about 30 minutes or until the dough has frozen. Once frozen, you can place the cookie dough into a plastic freezer zip-top bag for storage. When you want a few cookies, bake them straight from the freezer. Do not thaw. Just add a minute or two to the bake time.
Try dipping half of the cooled cookies in melted chocolate! That's a good way of making it feel a little bit more dressed up.
I used a stand mixer, but these cookies can be easily made the old fashion way. Just cream the wet ingredients together well before adding the dry ingredients.
Peanut Butter Chocolate Chip Cookies
Yields: 6 to 7 dozen
Time: 1 hour
3 1/4 all-purpose flour
2 teaspoons baking soda
1 teaspoon salt
2 sticks (8 oz) unsalted butter (softened at room temperature)
3/4 cup granulated sugar, plus more for rolling (about 3 tablespoons)
1 ¼ cup light brown sugar
2 eggs
2 teaspoons vanilla extract
1 (12 oz package) of semi-sweet chocolate chips
Preheat oven to 375F.
In a small bowl, mix flour, baking soda and salt until combined. Set aside.
In the bowl of a stand mixer, add butter, peanut butter, 3/4 cup granulated sugar and light brown sugar. Assemble beater attachment and beat on medium speed until mixture is fluffy and lightened in color. This may take a few minutes. Add eggs, one at a time. Then add vanilla extract. Mix well. (These mixing steps can also be done by hand).
Slowly add in the flour mixture. Finally, add the chocolate chips and mix until just combined.
Take a cookie scoop or a spoon and scoop a dough ball about an inch in size. Roll in your hand until you get a small round ball. Then drop the ball into a plate or bowl with the additional granulated sugar and roll the balls until they are covered in sugar.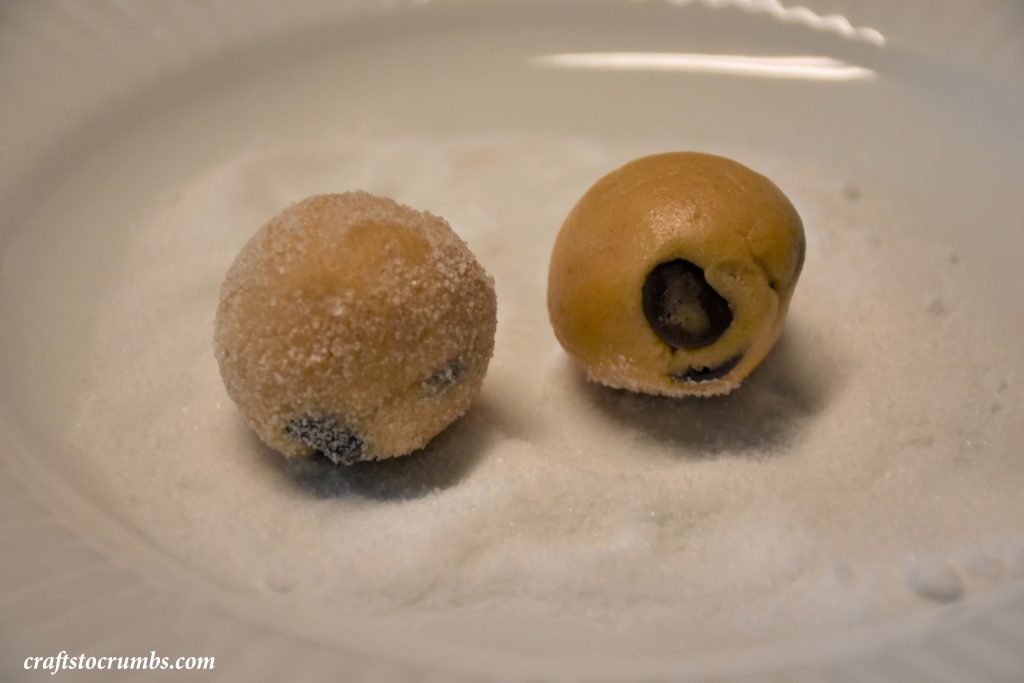 Then place sugar covered dough balls about two inches apart on ungreased baking sheet and flatten slightly with your hands or a spatula.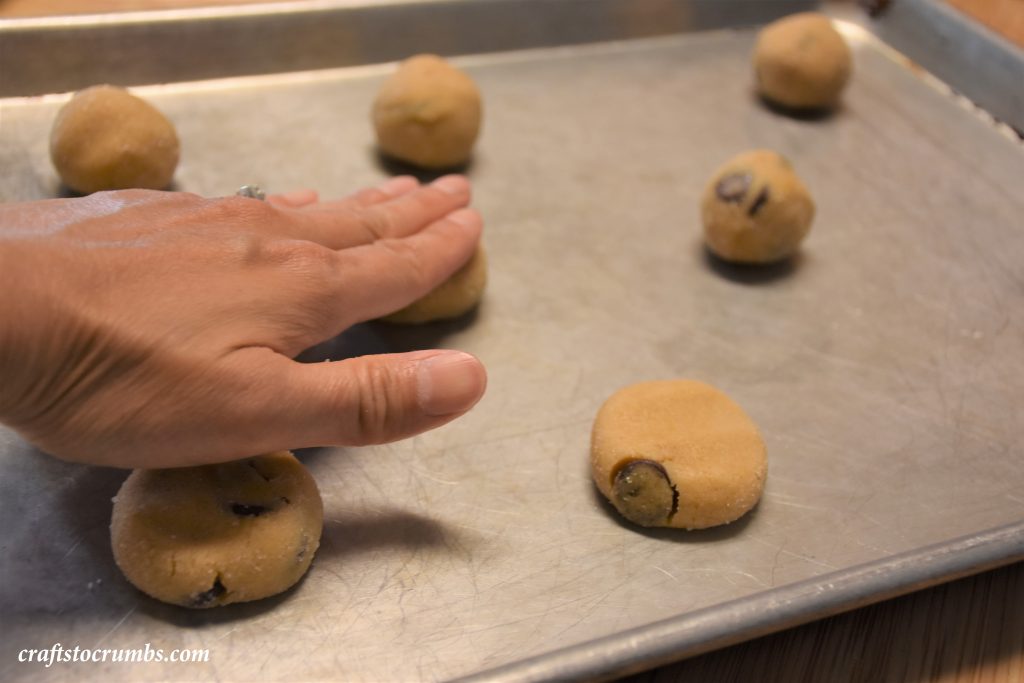 Bake for 9 to 11 minutes or until the edges are slightly light brown. Leave on the baking sheet for about 3-5 minutes before removing and letting the cookies cool completely on a cooling rack.
Enjoy!