Thom Khem (ຕົ້ມເຄັມ), which translate to salty stew is ironically, just as sweet as it is salty or savory. The sweetness comes from the caramelization of pork or chicken in caramel, literally. This lends the dish, an English name of caramelized pork.
I decided to make thom khem, in honor of my younger sister for her birthday. My younger sister has been mostly out-of-state for the past couple years and I'm sure she misses mom's cooking. This is one of the first recipes she asked for. And I can't blame her. I have been in search of a recipe for thom khem for a long time myself. The savory, sweet, tender meat with the aromatic broth seeped into the sweet crannies of jasmine rice. Yum.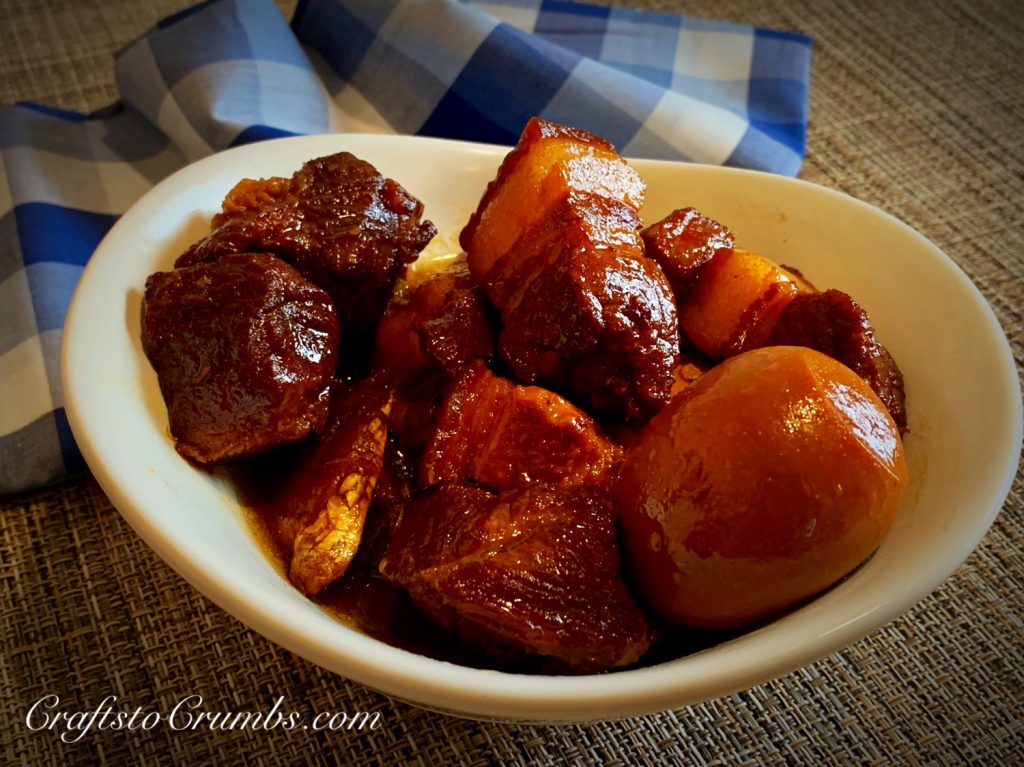 Over the years, I have tried many recipes, but none have been like mom's thom khem. Hers was simple. Hers didn't have all that extra fluff. If it has anise or cinnamon or five spice, you're getting too close to the Thai palo. That's nothing like mom's. And I'm not sure why it took so long, but one day I thought to myself, "why don't I just call mom and ask her how she makes her thom khem?" Hello! Novel idea. So I called her and this recipe is based on her instructions.
I've also added a few of her (and my) notes below.
Don't use fish sauce (nam pa) – it adds a funk to the dish that shouldn't be there.
Don't let your water dry out – when you are simmering, if the liquid has almost completely reduced out, add a little bit more water.
You may want to wait until the thom khem has reduced quite a bit (maybe an hour) before, adjusting any seasonings to your liking. The flavors will be more intensified once it has been reduced.
Chicken can be used in place of the pork. It's made exactly the same way, just substitute the meat and reduce the cook time by about 30 minutes or so. I went with pork this time to ring in the Lunar New Year of the Earth Pig. I actually prefer the chicken. It is leaner and having the chicken satisfies my slight obsessive compulsiveness. Chicken and eggs just belong together. It's a personal preference.
Speaking of the eggs, you can add as many eggs as you like or none at all. If you try to keep track of the continuity of the eggs in my video, there will be none. And I'm not ashamed to say, I started out with the 5 eggs and taste tested one at the hour mark. Then decided, shoot, I better add another one back in there and ended up adding two more than that one because that's my favorite part of the dish. My siblings and I used to fight over the eggs when we were younger. Now I can have as much as I want. 🙂
Galangal, along with keffir lime leaf are optional. And as mentioned above when you add the five spice and everything nice, it takes the dish into neighboring territories. That's not needed for mom's dish.
Thom Khem ຕົ້ມເຄັມ (Caramelized Pork)
1 lb pork belly, cut into cubes * (ໝູສາມຊັ້ນ ປະມານ 1/2 ກິໂລ)
1 lb pork – country style ribs, cut into cubes * (ໝູ ປະມານ 1/2 ກິໂລ)
2/3 cup sugar (ນໍ້າຕານ 2/3 ຈອກ)
¼ cup vegetable or canola oil (ນ້ຳມັນ ¼ ຈອກ)
4-6-8 hard-boiled eggs (ໄຂ່ຕົ້ມ 4 ລູກ ຫຼື 6 ລູກ)
3-4 garlic cloves, crushed ( ຄີບ ຄະທຽມ 4 ຄີບ)
2-inch ginger, sliced and crushed (ຂີງ 2 ຕ່ອນ)
1-inch piece of galangal (optional) (ຂ່າ 1 ຕ່ອນ)
4 cups water (ນ້ໍາ 4 ຈອກ)
3 tablespoons black soy sauce (ຊື່ອິ່ວດໍາ 3 ບ່ວງ)
¼ cup oyster sauce (ຊອດນາງລົມ 1/4 ຈອກ)
2 ½ teaspoon salt (ເກືອ 2 1/2 ບ່ວງນ້ອຍ)
1 teaspoon MSG (optional) (ແປ້ງນົວ 1 ບ່ວງນ້ອຍ)
In a large pot over medium high heat, add sugar and oil. Stir to combine. Allow sugar to caramelize to a dark amber color. This may take a few minutes. Add the crushed ginger and garlic and let it cook for 30 seconds to a minute or until it is fragrant.
Then add pork pieces. Brown and caramelize for 2 -3 minutes before deglazing the pot with the water. Add eggs. Then add all the soy and oyster sauces, salt and MSG (if using).
Reduce the heat to low and let it simmer for 1 hour to 1 ½ hour or until pork is tender, but not falling apart. Add more water if needed, do not let the water dry out. You can taste it at about the hour mark and adjust seasoning to your liking.
Serve over jasmine rice. Enjoy.