Banh xeo is Vietnamese crepes named for the sizzling sound it makes when the batter hits the pan. It gets it bright yellow color from turmeric. This also gives it a slightly earthy flavor with coupled with a coconutty note.
Filling are typically pork belly and shrimp, but the sky's the limit. You're eating it, why not make it how you want it. Don't tell my Vietnamese friends, but I really enjoy the banh xeo crepes with the banh cuon filling. And I ain't ashamed of saying it. I enjoy it.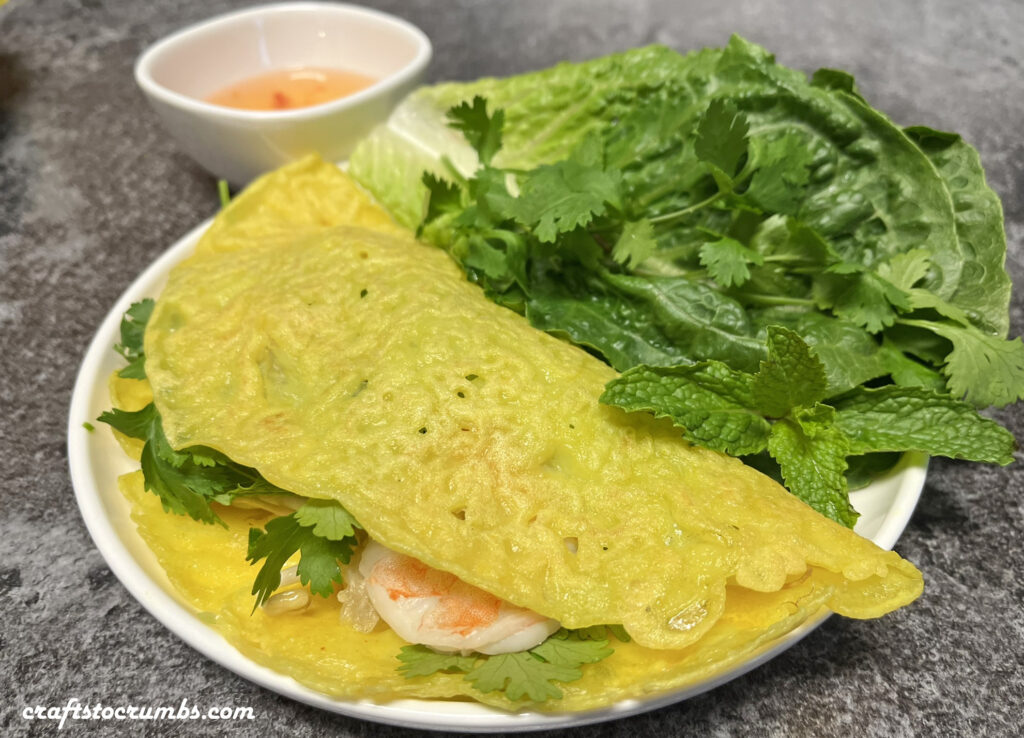 My Notes:
Heat – make sure your pan is sizzling hot, otherwise your crepes won't get quite as crispy. They will end up with a smooth texture on the outside as well. Medium-low to medium heat is just right for my stove. It's the just slightly hotter than the temperature that I  typically use for pancakes or kanom kok. Usually, the first crepe is a good tester and I call it the chef's cut. It doesn't matter what it looks like, I'll eat it and before everybody else too. Below is an image of the difference between a pan when it's not hot enough vs one that has come up to temperature.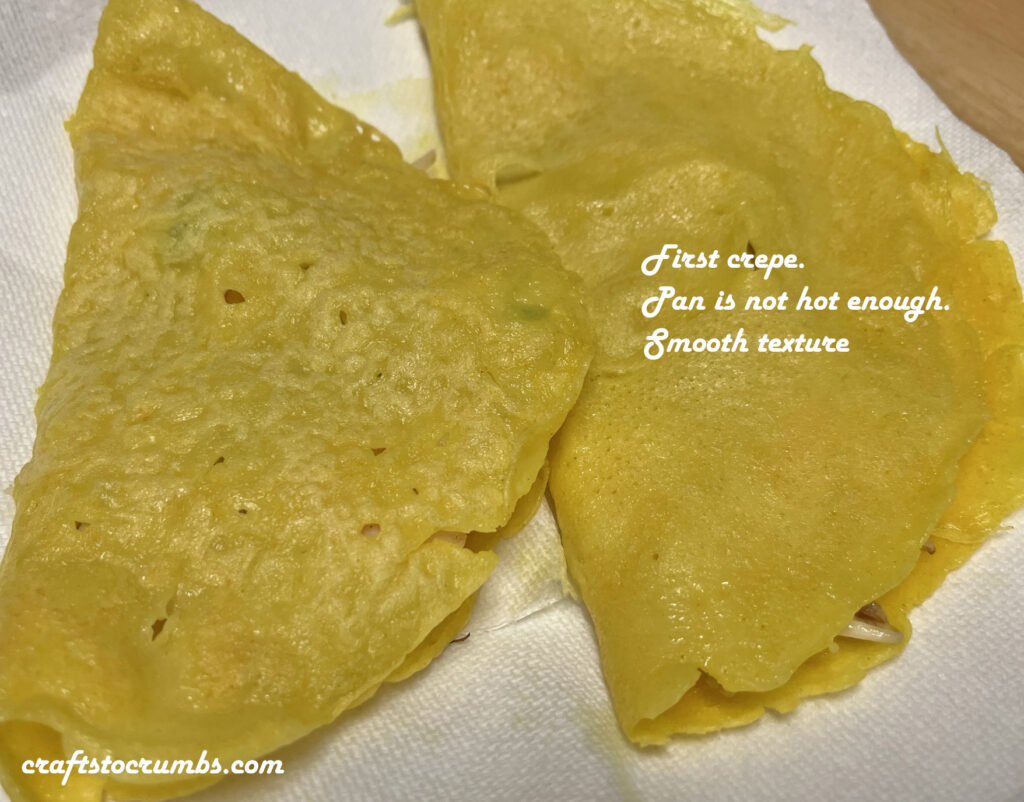 Shrimp – shrimp can be cooked in or out of the crepe. If cooking with the crepe, place the shrimp in the pan before the crepe. After a few seconds, flip the shrimp and then add the crepe batter swirling the pan to distribute the batter. Cover for a couple of minutes. Remove the cover and add the rest of the filling.
Green onions – you can add the thinly sliced green onions in the batter or add it to the filling. I've tried it both ways and either is fine.  Adding this here as an option as well.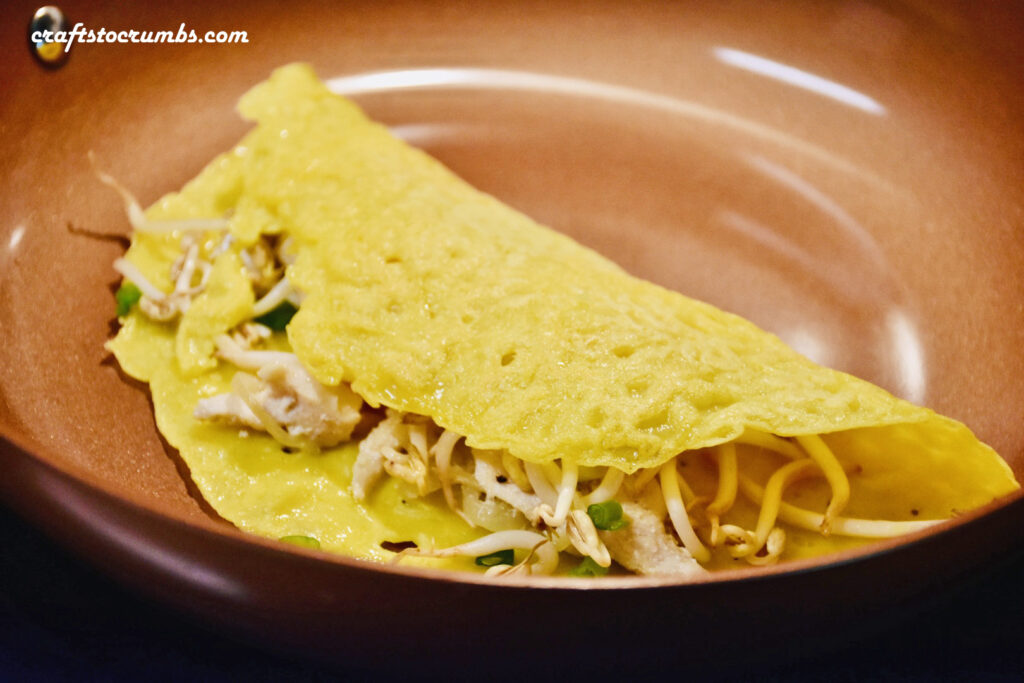 Banh Xeo

Yields: 8
Time: 1 hr
Batter
2 cups rice flour (red bag)
½ teaspoon salt
1 teaspoon sugar
¾ teaspoon turmeric
2/3 cup coconut milk
1 ½ cups club soda or water
¼ cup canola oil – for frying
Filling
8 oz chicken, thinly sliced
½ medium onion, thinly sliced
2 cloves garlic
Salt and pepper to taste
1 tablespoon canola oil
16 oz Shrimp, peeled deveined and tail off
1 ½ Mung bean sprouts
2 scallions, thinly sliced
Accompaniments
Lettuce
Cilantro
Mint
Perilla
Nuoc cham sauce or jeow wan
• In a large bowl, add rice flour, salt, sugar and turmeric. Stir. Add coconut milk and club soda or water. Whisk thoroughly. Set aside.
• Meanwhile, cook the filling. In a pan over medium heat, add 1 tablespoon oil and let it heat up for a minute. Then add the onion. Let it cook until translucent. Add the garlic and allow to cook until fragrant. Quickly, add the chicken. Season with salt and pepper. Cook for 2 to 3 minutes or until chicken is cooked through. Remove from pan and set aside.
• Shrimp option 1 – cook all shrimp with a little bit oil, salt and pepper. They cook quickly within a minute or so for both sides. Remove from heat and set aside.
• Shrimp option 2 – add oil to pan and let it heat up. Then cook 2-3 shrimp (or however many you want in each crepe. Turn the shrimp after 30 seconds. Then proceed to add the crepe batter with the shrimp in the pan.
• For crepes, in a 10-inch pan over medium-low heat (same as for pancakes for me), add about 1 ½ teaspoon oil. Let it heat up for a few minutes. Take about 1/3 cup of batter and pour into the pan. Swirl the pan to help distribute the batter. Cover the pan with a lid for about 2 minutes. After that time, remove the cover. Add the chicken and shrimp filling, a little bit of the mung bean sprouts and scallions.
• Fold the crepe in half and let it cook for another 2 minutes or so until the bottom gets crispy.
• Remove from the pan and place on paper towel-lined plate.
• Repeat until batter and filling are gone.
• Served with accompaniments. Traditionally crepes are broken into pieces and eaten with a sauce like a lettuce wrap.