This is my gooey twist on the classic chocolate crisp or crunch bar. The bars have been around for decades and some of my work mom still reminisce about those tasty treats from their childhood. And the simplest recipes are always the best. The traditional crunch bar was made simply by melting chocolate and adding rice crisps cereal. That's it. Below is a dark chocolate crunch bar made with only dark chocolate and rice crisps cereal.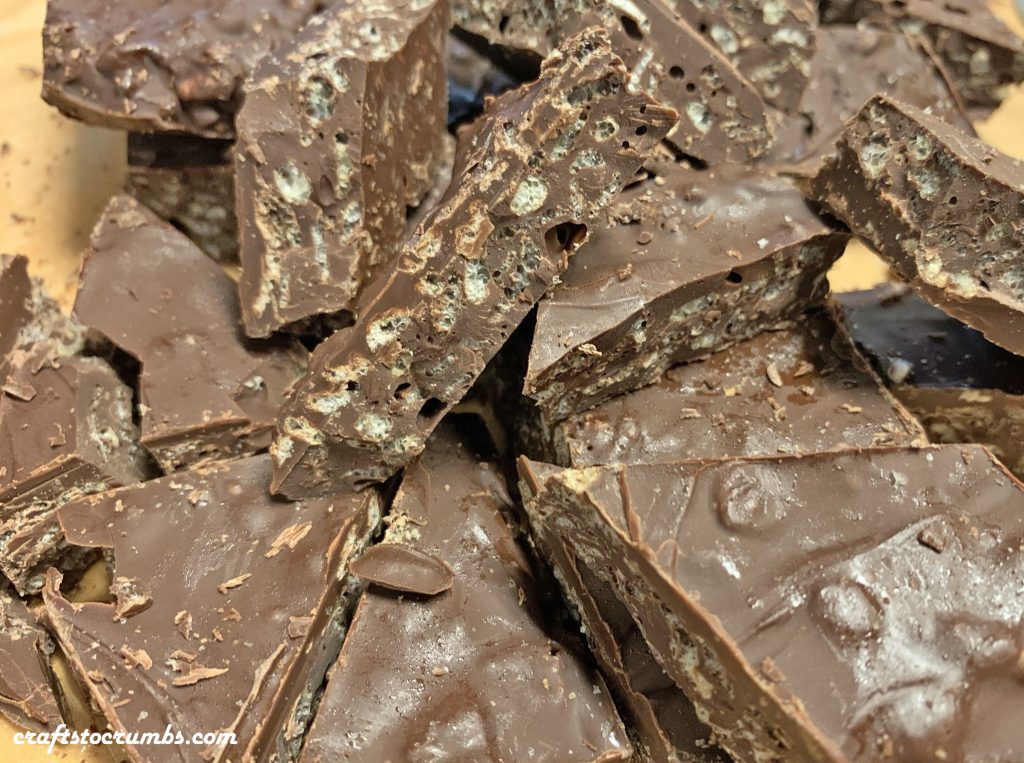 Over the years the recipes have become more complex. Some reduce the chocolate and add peanut butter. The new wave of eating trends have introduced us to low sugar or sugar free chocolate and the recipes are now sweetened with maple syrup or honey. For this recipe, I have that as an option. If you're not on any special diet, by all means, go with regular chocolate, but I'd skip the honey or maple syrup as it can get a bit too sweet.
Notes:

• Sticky situation – For the regular crunch bars with regular semi-sweet, milk or dark chocolate, skip the honey and caramel. Otherwise still following the recipe below. If using store-bought caramel, you may have to heat it in the microwave for about 30 seconds or so. I'm using my salted caramel.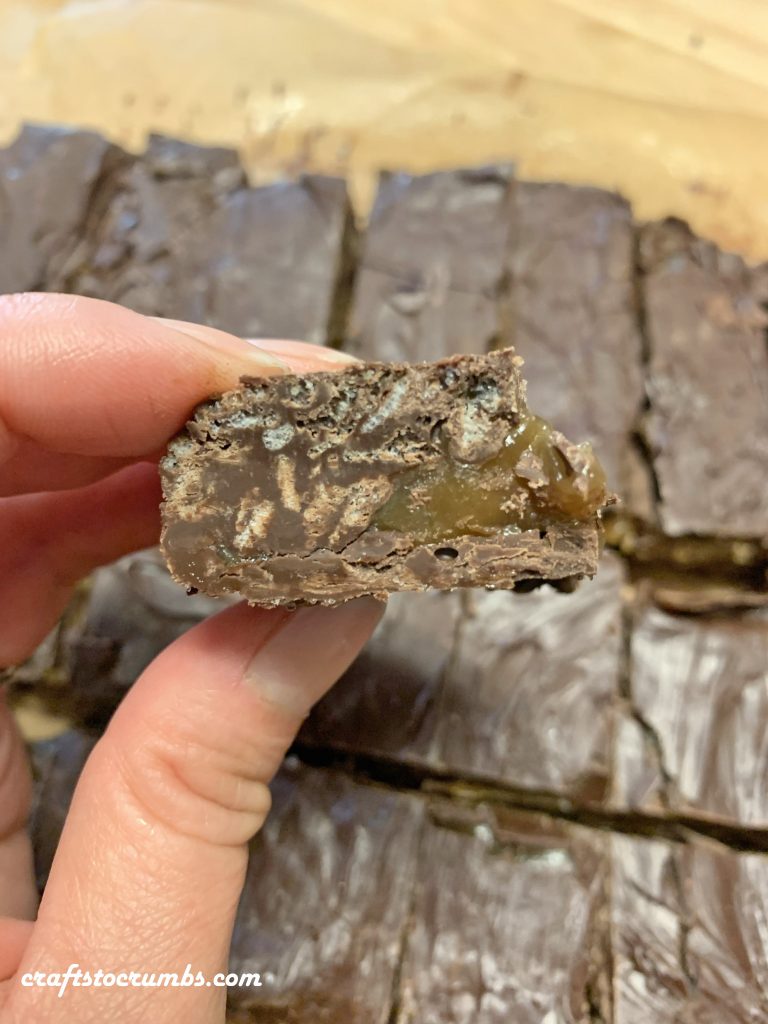 • You make me melt – To melt the chocolate, use a double boiler system by placing a heat proof bowl over a pot of gently boiling water. Or the quick and easy method of placing the chocolate in a heat proof bowl in the microwave and heat for 30 second intervals. Make sure to stir in between each interval as you don't want to overheat your chocolate and end up with burnt chocolate.
• Speaking of chocolate – as mentioned, use whatever variety that you like. I always prefer a dark chocolate and that's my go-to. The milk chocolate is the traditional choice as a crunch bar is typically made of milk chocolate, but that tends to be a bit too sweet for me. And it doesn't have to be chocolate chips either! You can chop up chocolate bars and those would be even better. Obviously, the better quality the chocolate, the better your bars will be.
• Pan size – only matters if the thickness of your bars matter. The smaller the pan, the thicker your bars. If you want thinner bars or bark like pieces, then go with a larger pan.
Caramel Crunch Bar
Time: 2 1/2 hours (including inactive time)
Serves: 16

2 ½ cups (400g) chocolate chips or chocolate (your choice – dark, milk, semi-sweet, low sugar) – Divided
1 tablespoon honey or maple syrup (option if using low sugar or sugar free chocolate)
1 tablespoon coconut oil (or butter) – Divided
½ cup caramel (homemade or store bought)
1 ½ rice crisps cereal
• Line a 9×9 (or 11×7) pan with parchment paper. Spray with a coat of cooking spray
• Melt 2 cups (320g) the chocolate chips with honey and 2 teaspoons coconut oil. You can use a double boiler or microwave in 30 second intervals.
• Add rice crisps cereal. Mix well. Spread evenly onto lined pan.
• Pour the caramel onto top of the chocolate crisps mixture. If using a store-bought caramel, you may have to warm it up slightly to spread on top.
• Place pan in the fridge for a few minutes while you make the top layer. This allows the caramel to cool slightly as well.
• Melt the other ½ cup of chocolate chips and 1 teaspoon of coconut oil, pour and spread on top of the caramel layer.
• Refrigerate for least two hours. Cut and serve. Store in airtight container.