Savory, sweet, caramelized fried noodles, kua mee, is a staple in Lao cuisine. It is the equivalent of Pad Thai to Thai cuisine, and it is sometimes called Pad Lao. However, don't expect the flavors to be the same as Pad Thai. These noodles have a slightly sweeter profile and showcases a different spectrum of flavors. The balance of sweet and salty keeps you wanting more.
Growing up, my mom made this noodle dish all the time, especially for potlucks. And it would almost always be the first dish be eaten and gone. Just like the thom khem recipe, I've tried other people's recipes, and none are like moms. I had to go straight to the source and ask her how she makes hers. Here are a few of my and mom's notes.

Notes:

• Seasoning – Mom's kua mee is very straight and simple. You'll find other recipes adding various seasoning sauces, oyster sauces, and such. Some are purely meant for color, but those sauces change the flavors. You can add those, but the dish will not be the same. Get your sugar to caramelize into a nice dark amber color and you won't have to worry too much about color.
• Adjusting the seasoning – the method calls for tasting and adjusting the seasoning, but this I mean with only the seasonings called for in this recipe. Add salt for saltiness, MSG, or sweet soy for sweetness. Do not introduce any other sauces.
• Sweet Soy – we talked about this before. This is the only sauce mom uses in her kua mee. I used the Kwong Hung Seng Sauce brand with the blue cap. Remember different types of sweet soy sauce have different sweetness and depth. You may have to adjust the sugar accordingly if you use a different brand.
• Green onions/scallions – long cuts are preferred. Mom said that's how they serve them in the markets. But of course, that's not a requirement or anything, cut them however you like.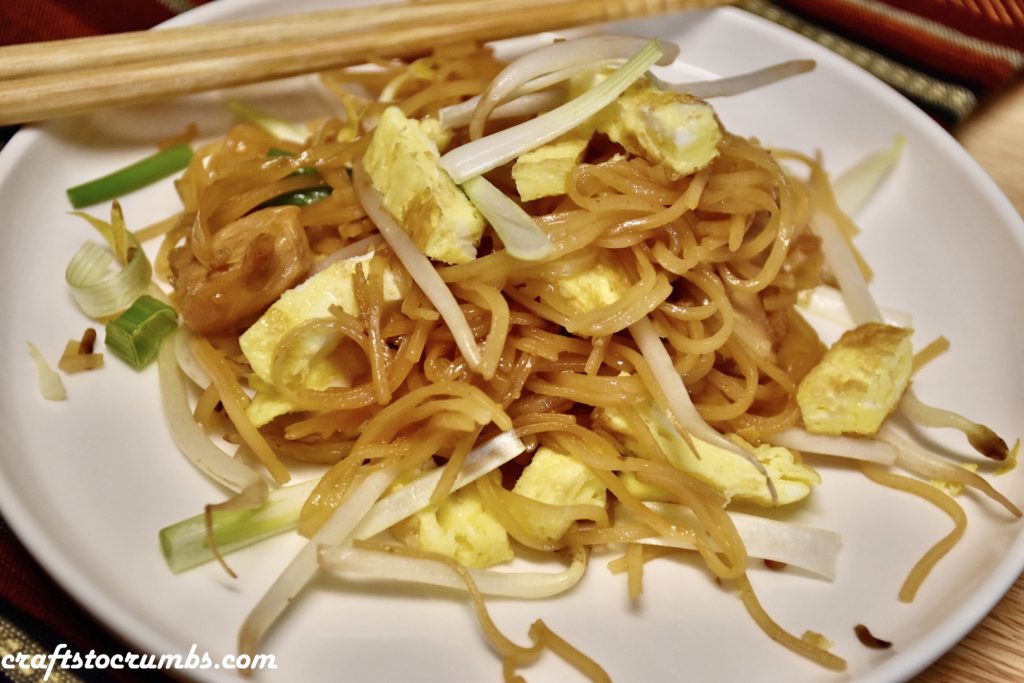 Mom's Kua Mee (Pad Lao)
Serves: 6-8
Time: 20 minutes (plus 30 minutes inactive time for soaking noodles)
Fried eggs topping
4 eggs
1/8 teaspoon salt
Pinch of MSG
1-2 teaspoon vegetable oil
• Crack the eggs, add seasonings, and beat well.
• Add the oil to the wok and let it heat up for minute. Then fry the seasoned, beaten eggs. You want to make an omelet.
• Remove the omelet from the heat. Let it cool slightly and cut into small pieces. Set aside.
Protein

½ lb (.25 kg) chicken or meat of choice (cut into small pieces)
½ teaspoon salt
¼ teaspoon MSG
1-2 teaspoon Sweet Soy
1-2 teaspoon vegetable oil
1 clove mince garlic (optional)
• Add oil to a wok over medium heat. Once the oil is hot, add garlic (if using) and cook until fragrant. Then add meat and seasonings. Cook for a minute or two. Do not let it cook all the way through. Only cook partially, as it will be added back to the wok for additional cooking later. Remove from the wok and set aside.
For the noodles

1 lb (454g) package rice stick noodles
½ cup (100g) sugar
2-3 tablespoons vegetable oil
1 cup (237ml) water (plus more if needed)
1 teaspoon MSG
1 ½ teaspoon salt
1 ½ – 2 tablespoons Sweet Soy Sauce (Kwong Hung Sauce – blue cap)
4-5 cloves garlic (minced)
Green Onions (long cuts preferred)
Bean Sprouts
Fried eggs (from above)
• Soak the noodles in cool water for at least 30 minutes.
• Clean your wok. Add the sugar and heat over medium heat. The sugar will melt and caramelize. Once amber in color, add the oil.
• Next add the mince garlic. Let it cook until fragrant.
• Then add the water. Followed by salt, MSG, and sweet soy. Give it a taste at this point to see if the taste is to your liking or whether it needs to be adjusted.
• Add the partially cooked meat back into the wok and let it cook for another 30 seconds or so.
• Finally, add the noodles. Let the noodles cook until the water has been completely soaked up and noodles have softened. If the noodles are still hard, add more water and cook until the desired softness.
• Remove fried noodles from wok and top with fried eggs, green onions, and bean sprouts.