A light and fluffy mango sponge layer cake with mango filling and a mango whipped cream.
Yep this one has been a thorn in my side for a long time. Longer than anyone knows. I've only attempted this recipe again after taking a long hiatus (years), but results were not to my liking. After four variations and four attempts in recent months, I think I finally got it.
It's funny because the thing that kept this recipe from  getting to this point, was the same thing, but applied to different components of the recipe. That thing was lemon juice. I added lemon juice to the frosting, the filling, the cake or some other combination of cake, filling or frosting. I even made a lemony syrup for one attempt. My thought was, since it's a fruit flavored cake, lemon would help brighten it up. Not for mango. It adds an astringency to those elements and takes away the brightness. So lemon DOES NOT do any good here. I threw away tiny expensive bottles of mango extract at one point thinking they were the cause of this astringency, but now I know.
This recipe has caused me quite a bit of frustration, but it yielded me two recipes that will now be my go-to recipes. I got frustrated during one attempt and threw together the pandan cupcakes because I can do cupcakes in my sleep. And who doesn't bake when they get frustrated with baking? 🙂 I changed a few things from my normal recipe there and have a new go-to recipe.
After baking those pandan cupcakes, I ended up with extra coconut milk that I needed to use. Prior to this, I've felt that chiffon cakes could use a little richness boost. I know they are supposed to be light and fluffy. This cake is light and fluffy, but a little bit of richness couldn't hurt. And what a great way to use my extra coconut milk. Boy did that make a difference. You can feel the difference even when mixing the batter. I believe I said out loud to myself, "man, that's good batter!" And I've tried many chiffon recipes; both my own and other people's recipes. The cake itself was so soft and pillow-y. This will change all my chiffon cakes going forward.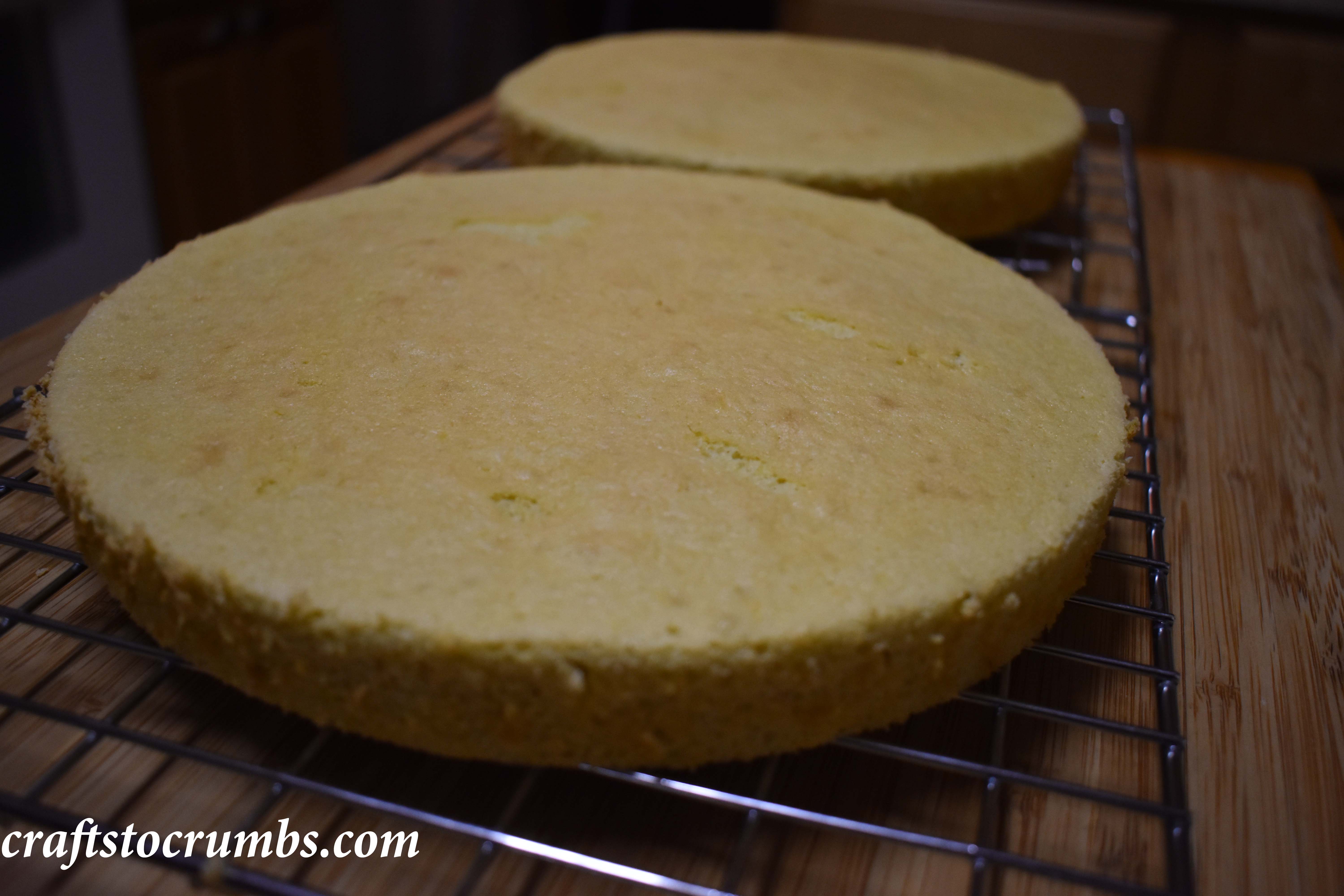 So here are a few notes and the recipe.
Notes:
Make sure your eggs are room temperature along with all your other ingredients.
Position your oven rack in the lower third of the oven. Line the bottom of your cake pans with wax or parchment paper, but do not grease them. Chiffon cakes rise by climbing up the walls of the cake pans and they don't do well if you grease them.
DO NOT add lemon to any component of this recipe. The lemon brings out the astringency of the mangoes.
If you don't have coconut milk or don't want to use it, you can use any other types of milk. Note that adding the coconut milk will add a coconut flavor to the cake, if you don't like this then use regular milk.
If you are making roses on top of your cake with the thinly sliced mangoes like I did, you'll have to work quickly because it is whipped cream. It's okay to put in roughly what you want and fill it in with extra slices later. If it looks like it's going to melt, stick it in the fridge for a few minutes before you continue to work. You'll get faster as you go. It takes about 2 to 3 mangoes. 3 if you end up snacking on them, like I did. 🙂
I ended up weighing my batters to ensure equally filling my pans and found that I get about 415-420 grams of batter in each pan.
If you don't want to make the mango filling, you can just make the whole whipped cream frosting recipe plus 4-5 tablespoons of mango puree and fill the cake with the whipped cream. It tastes like mango mousse and is delicious on it's own.
The ingredients on the video footage may appear different than written, but just follow the written recipe and the basic instructions.  As previously mentioned, I tried this recipe a few times and used the best footage from what I had. The subtitles should be very much like the recipe below.
Mango Chiffon Cake
Serves: 8-10
Time: 1.5 hour
Batter:
8 large egg yolks
¾ cup (149 g) sugar
2/3 cup (157.7 ml) mango puree
2/3 cup (157.7 ml) coconut milk or whole milk (whole milk preferred)
2 tablespoons (~ 30 ml) canola oil
1 ½ teaspoon (7.4 ml) vanilla extract
2 cups (226 g) cake flour
1 tablespoon (15 g) baking powder
½ teaspoon (3 g)  salt
Meringue:
8 large egg whites
½ cup (99 g) sugar
½ teaspoon (2 g) cream of tartar or 1 teaspoon (2.3 g) cornstarch (Optional)
Preheat oven to 325F and position rack to lower third of the oven. Line three 9-inch cake pans with wax or parchment paper. DO NOT grease.
Separate your large eggs and get your egg whites directly into the bowl of your mixer and your yolks into a large bowl. This bowl with the yolk will be your batter bowl so make sure it is large.
In a medium bowl sift your cake flour, baking powder and salt. Set aside.
Using a stand mixer or a hand mixer start beating your egg whites until they get frothy. Add the ½ cup of sugar and cream of tartar. Continue to beat until you get a stiff peak. This could take several minutes. If using a stand mixer, you can let this beat while you mix the batter.
For the batter. In the bowl with the egg yolks, add ¾ cup of sugar, mango puree, oil, coconut milk (or milk) and vanilla extract. Whisk until ingredients are combined. Then slowly add in the flour mixture and whisk until smooth.
Then fold in a little of the meringue. Before folding in the rest of your meringue. Make sure the meringue in incorporated well into your batter, but try not to over mix at this point.
Pour batter evenly into the prepared pans. (I had about 415 grams of batter in each pan.)  Give the pan a twirl and a tap to distribute the batter and release air bubbles. Bake for 22-25 minutes. A tester should come out clean and the top of the cake should be springy. Allow the cake to cool in pan for 10 minutes before turn onto a cooling rack and letting it cool completely.
Mango Filling:
1 ¾ cup (414 ml) mango puree
1/3 cup (~66 g) sugar
2 tablespoons (14 g) cornstarch
3 tablespoons (45 ml) water
In a medium sauce pan, over medium heat bring the puree and sugar to a boil. Add the slurry of cornstarch and water. Cook for an additional 3-5 minutes until the cornstarch cooks out and thickens.
Mango whipped cream:
Half recipe of whipped cream frosting
3 Tablespoons (45 ml) mango puree
1-2 drops of yellow food coloring (if desired)
Using my whipped cream frosting recipe and add 3 tablespoons of mango puree at the end. You can add a drop of food coloring if you want it to look a little more yellow.