One thing that I enjoy baking is cupcakes. Though some friends and family will request the usual, vanilla and chocolate, there are a few close friends and family members, who will allow me to bake whatever I want. 🙂 Some have learnt that when they give me artistic license, I can come up with creative things. That includes flavors and themes.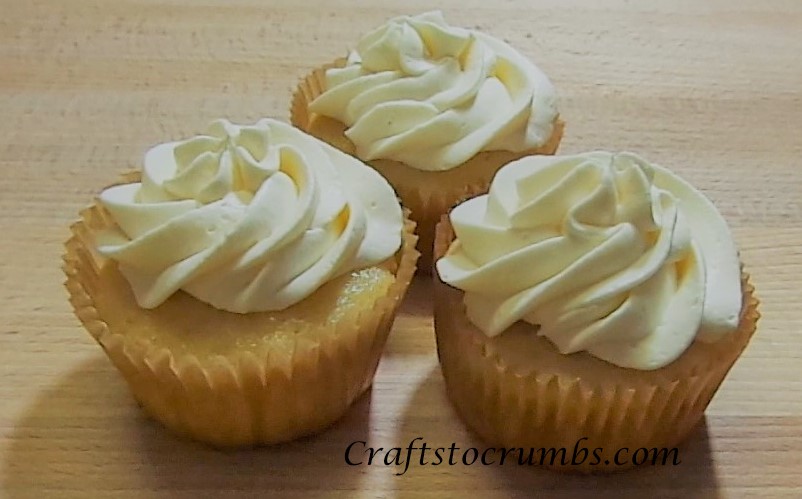 This cupcake recipe is from one of those times. It's the middle of winter and I wanted to share some sunshine. It just happened to be my sister's birthday. I had to play with this recipe a little bit. When I baked them for her, I had erroneously picked up pineapple rings instead of crushed pineapple. I didn't think that pineapple rings would ever come in a can that small. First mistake.
To make matters worse, I blended up the rings thinking it would be the same as crushed pineapple. I was wrong again. There's a lot more liquid in an 8 ounce can of pineapple rings and I had to adjust the recipe and I wasn't happy with the final product. Everyone said it was good, but I know it could be better. I was starting to doubt my original recipe and had to make it again. It was delicious, as it was originally.
I also decorated her cupcakes in beach theme to make it more fun. I will post a video for that later. Also a video for my favorite frosting will soon follow.   Here's the pineapple cupcakes recipe. Just remember, crushed pineapples. I've also added a simple whipped cream frosting recipe below.
I've been playing with guava as well. More to come.
Pineapple Cupcakes
Yields: 15-18 cupcakes
Time: 30 minutes
1 (8oz) can crushed pineapples
2 tablespoons milk (whole or 2 % or coconut milk)
1 ½ cup (180g) all-purpose flour
1 ½ teaspoon baking powder
½ teaspoon salt
1 stick (113g) softened butter
½ cup (110g) light brown sugar (lightly packed)
½ cup (100g) white sugar
2 large eggs (room temperature)
1 teaspoon of vanilla extract
Preheat oven to 350F (180C). Place cupcake liners in muffin pans.
In a small bowl, mix the crushed pineapple with milk and set aside.
In a medium bowl, sift together the flour, baking powder and salt. Also set aside.
Add butter, white sugar and brown sugar to the bowl of a stand mixer fitted with a paddle attachment. Mix on medium speed until fluffy and lightened in color, about a minute or two.
Add eggs one at a time. Scrape bowl. Add vanilla extract.
Then add a third of the flour mixture. Followed by half of pineapple mixture. Then add another third of flour mixture, followed by the other half of pineapple mixture and finish with the last third of flour mixture. Don't forget to scrape your bowl during this process. Mix for another minute.
Use a scoop or a spoon and fill prepared muffin pans about 2/3 full. Bake for 16-18 minutes or until tester comes out clean.
Frost with your favorite frosting and enjoy.
Easy Whipped Cream Frosting
1 ½ cup heavy whipping cream
¼ cup confectioners sugar
1 teaspoon of vanilla extract
Whip heavy cream until thickens, add sugar and vanilla extract and continue to whip until stiff peaks form.