Raspberry Red Velvet Brownies
It's that time of the year again. The time when I start thinking about all the decadent desserts and goodies that I want to bake for my nieces. I have one niece who grew up loving red velvet and the others love chocolate. This is the perfect marriage of the two.
Red velvet cake is very southern and can be served with the seven-minute frosting which is also very southern. But it is also commonly served with a cream cheese frosting. So, I added the cream cheese and thought, "Why not add some berry freshness?" Oh my gosh, it is so good. My little one told me it was like eating a cheesecake in brownie form.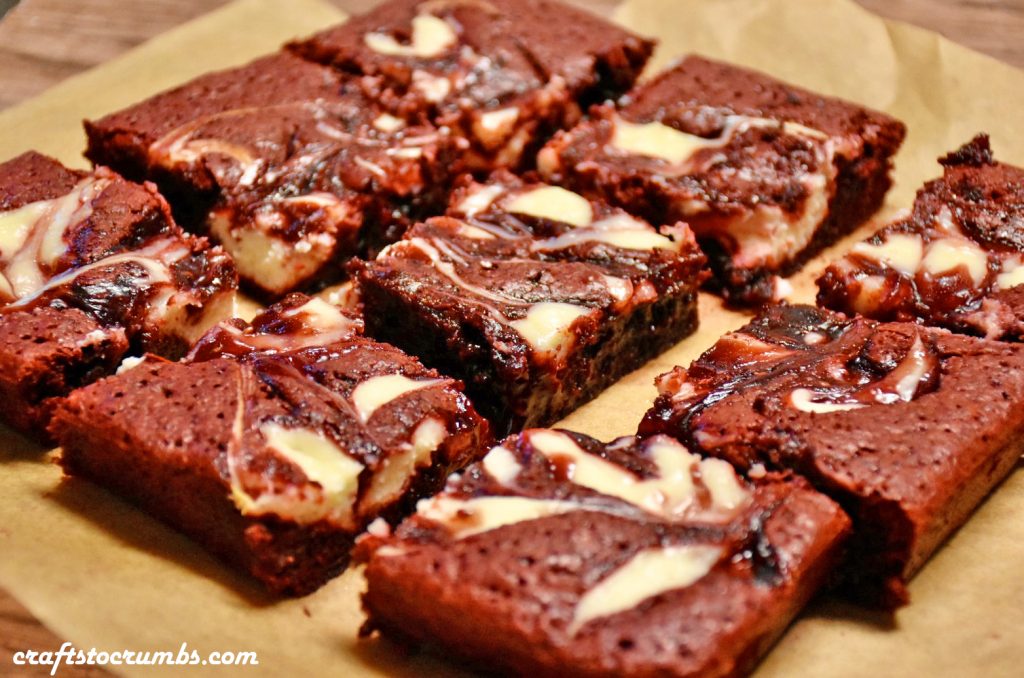 Notes:
More cheese please – if you like more cream cheese, you can double the cream cheese and use a whole 8 oz package and replace the milk with a whole egg. I like this proportion of brownie to cream cheese.
Doubling the recipe – you can double the recipe and bake in a 9×13 pan for 45-48 minutes. In either case, note that every oven, pan and such are different and could impact the cook time. The best rule of thumb is until the tester inserted into the middle comes out clean. Make sure to stick it in a brownie only spot and not a dollop of preserve, that could result in false results. It will appear when the brownie is already cooked. Brownies are not great when they are overcooked.
Raspberry – if you like a more pronounced raspberry flavor, use the raspberry extract instead of the vanilla extract. Also, you can use any flavor preserve or jam that you like. I can see that strawberry jam with a strawberry extract would work really well here.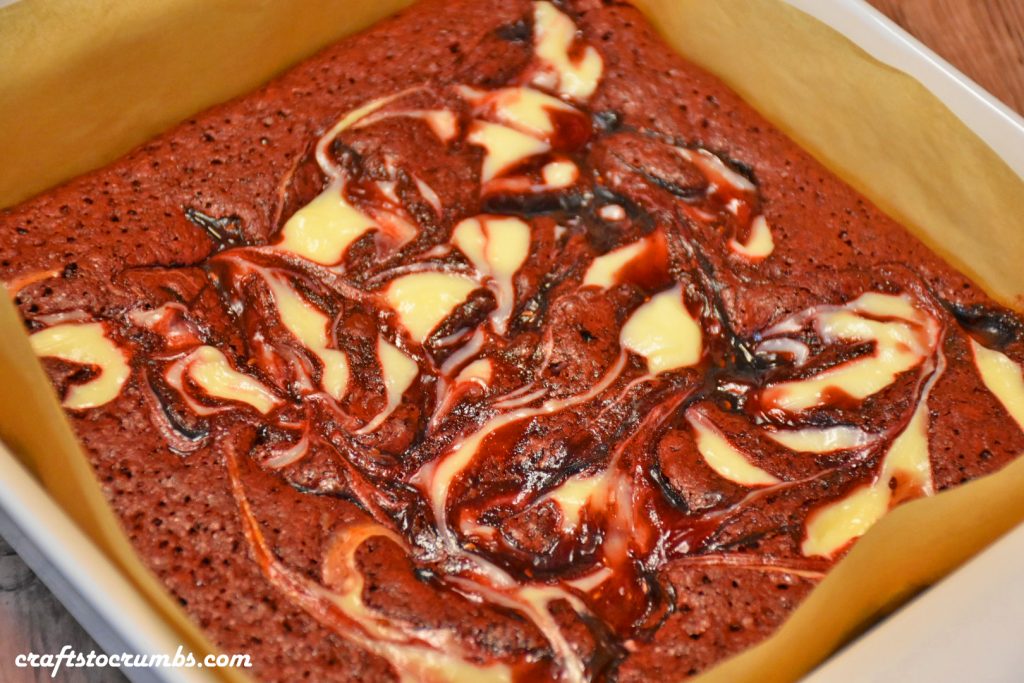 Raspberry Red Velvet Brownies

Time: 45 minutes (prep and cook time)
Serves: 9-12
1 stick (115g) unsalted butter
¼ cup (25g) cocoa powder (I used Dutch Processed)
2/3 cup (85g) all-purpose flour
2 eggs
1 cup (200g) sugar
1 ½ teaspoon vanilla extract or raspberry extract
1 tablespoon liquid red food coloring
½ teaspoon salt
½ teaspoon white vinegar
Cream cheese filling
1/2 package (4oz) cream cheese
2 tablespoons sugar
1-2 tablespoons milk
¼ teaspoon vanilla extract
¼ cup raspberry preserve
• Preheat the oven to 350F. Line an 8×8 square baking pan with parchment paper or grease lightly with cooking spray.
• Melt butter in a pan over medium heat. Let it cool slightly. Stir in sugar, vanilla/raspberry extract.
• Add eggs, one at a time, stirring well in between additions.
• In a small bowl combine, flour, cocoa powder, salt and baking power. Stir to combine and add into wet mixture. Pour batter into the prepared pan.
• In a small bowl, add he ingredients of the cream cheese filling and cream until smooth. Dollop onto the brownie mixture along with the preserve. Use the tip of a knife to create swirls by dragging the knife through the dollops in various directions.
• Bake for 30-32 minutes or until a tester inserted into the center of the brownie comes out clean.
• Let cool completely before cutting and serving.
• Enjoy.