Crunchy fried wonton with a creamy cream cheese filling. Crab Rangoon is a popular appetizer at Chinese and other Asian American restaurants. It is often served with duck sauce, plum sauce, or a similar sweet sauce.
It is an easy appetizer to make and can be made ahead of time. Great for the gathering and sharing season. For me, it's also my lazy days comfort food.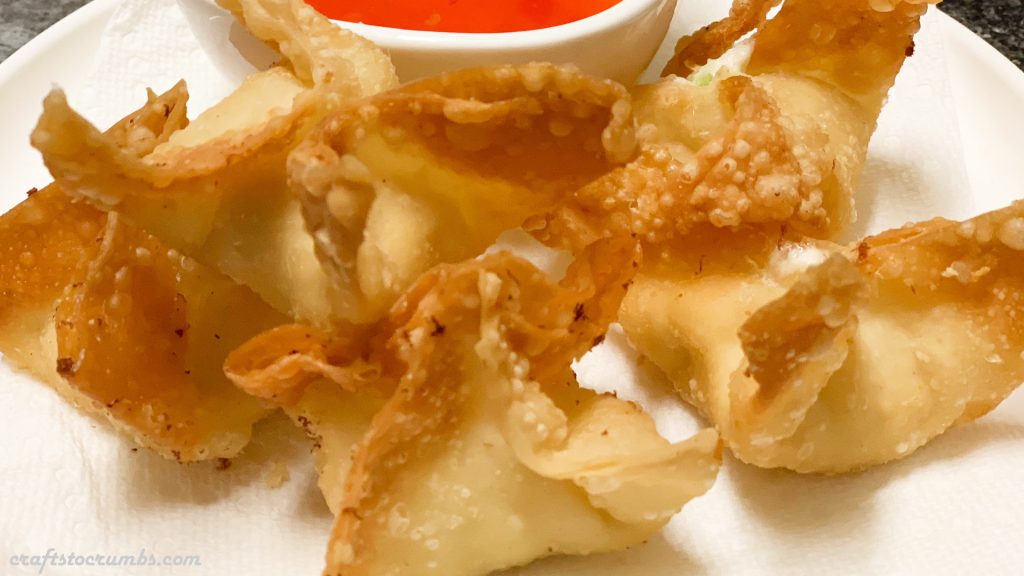 Notes:
All the same inside – it doesn't really matter how you wrap the wontons as long as you make sure as much air is pushed out as possible and that the parcels are completely sealed as they may lose all the filling in the fryer. You can just fold them in half diagonally to form a triangle and they'd be just as good. The most important thing is to get as much air out of them as possible before sealing. The trapped air will cause the crab rangoon to puff and potentially burst in the hot oil.
Crab meat – I used a 6 oz can of crab meat. The can states that the actual weight of the crab meat drained is about 4.25 oz. I would say use somewhere between 4-6 oz crab meat. If using the imitation crab meat, use about two sticks and cut into small pieces.
Bake or fried – to bake the crab rangoon, preheat your oven to 425F and bake for 10-12 minutes or until golden brown.
Freezable – Yep! You can prepare these, but do not fry/bake. Freeze them. When you are ready, bring them out and fry them. Just like the spring rolls, I do not recommend thawing these as the moisture will ruin the integrity of the wonton wrappers.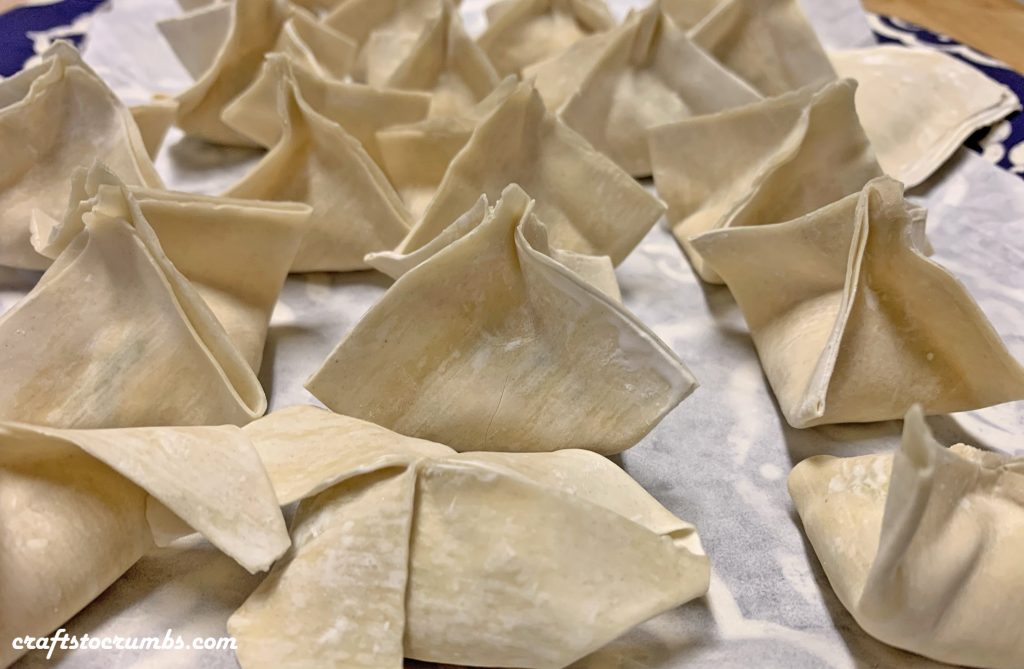 Saucy – Serve with your favorite duck sauce or sweet chili sauce. I'll have to ear mark to write down my favorite sweet chili sauce.
Crab Rangoon

Time: 30 minutes
Yields: 24
8 oz cream cheese
6 oz crab meat – canned (drained), fresh or imitation
1 teaspoon Worcestershire sauce
1 clove garlic (1 teaspoon) – finely minced or pressed
2 green onions – thinly sliced
½ teaspoon sugar
Dash of hot sauce (optional)
12 oz package of wonton wrappers
Oil for frying
Water or egg whites – to seal
• In a medium bowl, add all the ingredients except for the wonton wrappers. Mix well.
• Place one wonton wrapper on a plate. Dab a little bit of water or egg whites and brush it on the edges of the wrapper.
• Put a teaspoon and a half worth of the filling in the center of the wonton wrapper. Press the wonton wrappers closed working out as much air as possible. Make sure they are completely sealed.
• Preheat the oil to 350F. Fry wontons for 2-3 minutes or until golden. You will have to do small batches at a time until all have been fried
• Serve hot with your favorite sauce.