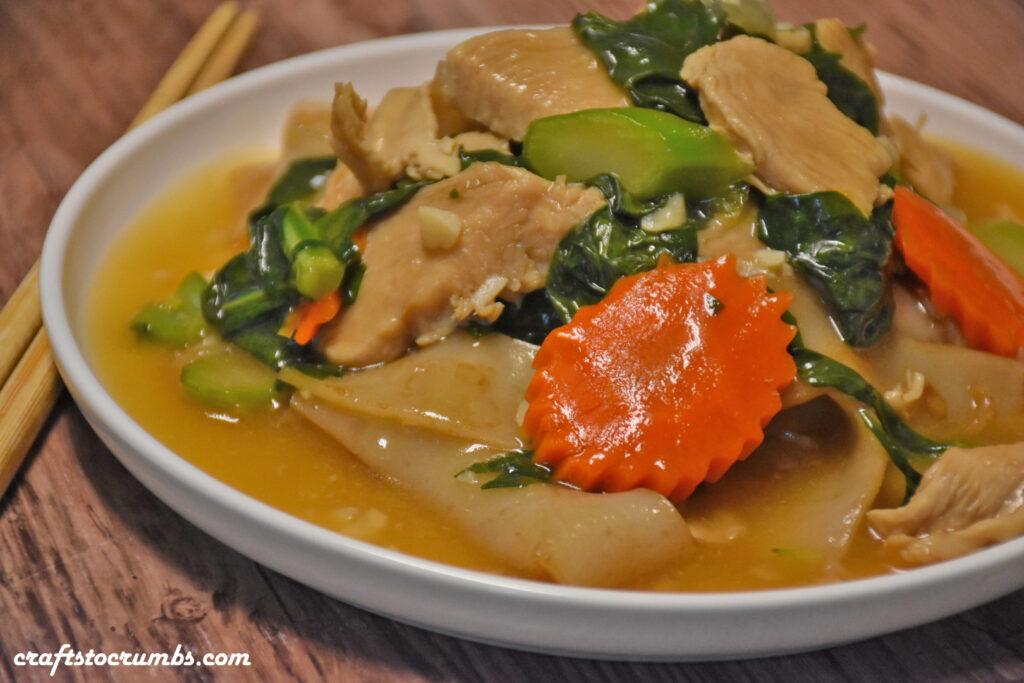 Lad na or lard na translate to "pour upon" or "pour on top of" is a dish that is essentially a gravy served on either noodles (mee lad na) or jasmine rice (khao lad na). Each name being descriptive of what they the lad is served on. Mee meaning noodles and khao meaning rice. I've had this dish served both ways at Thai restaurants (and sometimes at Lao restaurants too).
It's a fairly easy dish and comes together quickly. Not to mention, the dish is customizable from gravy to noodles. This can be a great addition to weekday meal rotation. I made my own fresh noodles, which takes a little bit longer, but efforts are worth it.
Here are a few notes.
Notes: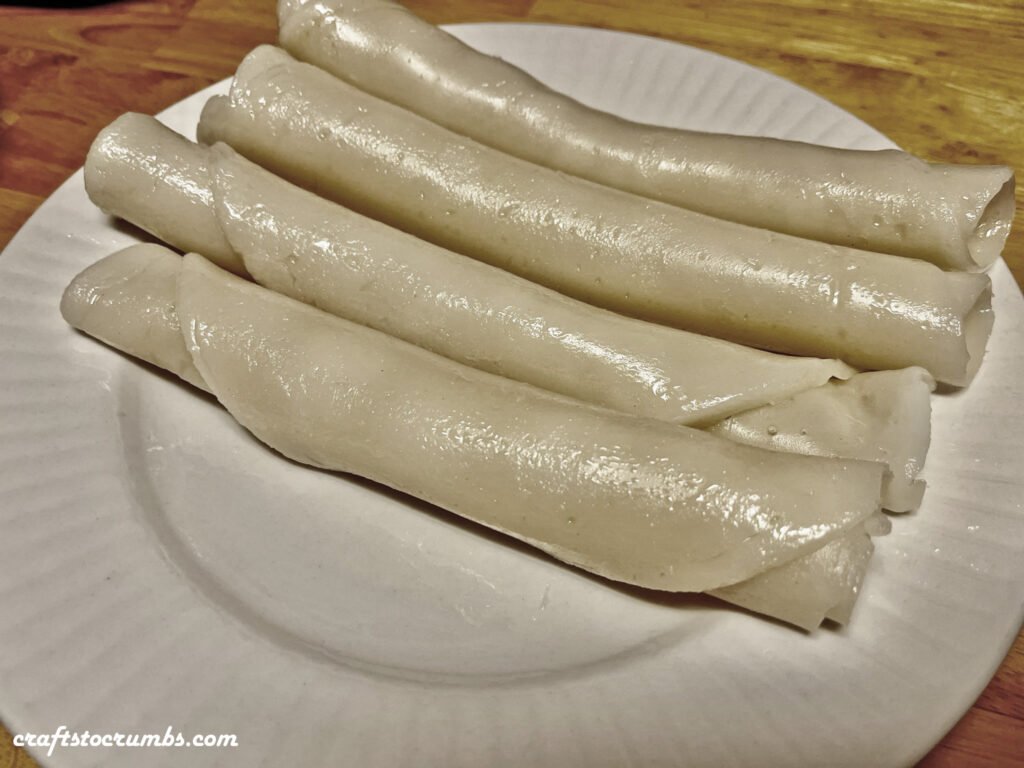 Noodles – check packaging for the noodles that you are using as cook time may vary. Try not to overcook them though as then will clump. As mentioned, you can skip this all together and serve on a bed of cooked jasmine rice. I had a little bit of extra time and made my fresh flat rice noodles.
Vegetables – use whatever vegetables you like. You typically find broccoli, carrots and even mushroom used in the dish. This is a personal preference. You can even use pre-cut stir fry mix vegetables if you like.
Meat – Pork is typically used, but you can use whatever you like.
Gravy thickness – If you like a thinner gravy, reduce the amount of cornstarch, if you like a thicker gravy, increase the cornstarch. You may also add your slurry in increments until you get to your desired thickness.
Seasoning – seasonings can and should be adjusted to taste. Different brands will have different salt levels. Make sure to taste as you go. I used unsalted chicken broth, if you used regular or reduce sodium or chicken bouillon and water, make sure to adjust accordingly.
Lad Na

Noodles (if using)
1 lb fresh flat rice noodles or 14 oz package dried rice noodles (if dried packaged – additional steps required for cooking)
1 tablespoon sweet soy sauce
1 tablespoon seasoning sauce
1-2 tablespoon vegetable oil
Water (if using dried packaged noodles)
Or rice in lieu of noodles – cooked jasmine rice
Lad Na
8oz. chicken (or meat of choice), thinly sliced
1 tablespoon vegetable oil
3-4 cloves (1 tablespoon) garlic, minced
2 tablespoons seasoning sauce
2 tablespoons oyster sauce
1 tablespoon fish sauce
½ tablespoon sugar
2 cups chicken broth
3 tablespoons cornstarch + 2-3 tablespoon water (slurry)
3-4 stalks Chinese Broccoli, sliced
1 carrot, peeled and sliced
Chili flakes (optional)
For noodles (if using)
• If using dried packaged noodles, soak in cold water for 30 minutes. Then bring water to a boil and boil the noodles for 1-2 minutes, depending on noodle size.
• Add oil to a wok over medium high heat. Let that heat until the wok is hot.
• Then add the fresh noodles/cooked packaged noodles, seasoning sauce and sweet soy sauce. Let cook for a couple of minutes until noodles until the noodles are golden brown.
• Set aside until ready to serve.
For Lad na
• Make a slurry by adding the cornstarch to the water. Set aside.
• In a clean wok over medium high heat, add oil. Once the wok and oil are hot, add garlic. Cook for about 30 seconds or until fragrant.
• Next add the chicken, sweet soy, seasoning sauce, fish sauce and sugar. Let that cook until chicken is thoroughly cooked.
• Add vegetables. Cook for an additional minute.
• Pour in the chicken broth. Followed by the slurry, making sure to stir the slurry before adding it to the wok.
• Adjust seasoning if needed
• Let the gravy cook until it has thickened. Serve over the noodles or over jasmine rice. Add chili flakes for heat and/or a splash of vinegar or brightness.